Associate Journal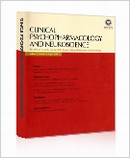 Clinical Psychopharmacology and Neuroscience
An academic journal, Clinical Psychopharmacology and Neuroscience, became an Associate Journal of AsCNP.
http://www.cpn.or.kr/
2022 journal Impact factor : 3.2
LANGUAGES : English
REGION : SOUTH KOREA
PUBLICATION FREQUENCY : 3 issues / year
PUBLISHER : KOREAN COLL NEUROPSYCHOPHARMACOLOGY
ISSN : 1738-1088
EISSN :2093-4327
On 2014, after 11 years of hard-work, the official scientific journal of the Korean College of Neuropsychopharmacology(KCNP), Clinical Psychopharmacology and Neuroscience (Clin Psychopharmacol Neurosci) was selected for coverage in Science Citation Index Expanded (SCIE). Clin Psychopharmacol Neurosci is now the 34th journal published in Korea to be indexed in SCIE. Furthermore, with unanimous support from the executive committee and council members of the Asian College of Neuropsychopharmacology (AsCNP), Clin Psychopharmacol Neurosci was also accepted as an Associate Journal for the AsCNP.
I would like to thank, Professor Chan-Hyung Kim, the president of the KCNP for his full support, and Professor Won-Myong Bahk, the former president of the KCNP and Professor Young-Chul Chung, the previous editor-in-chief of Clin Psychopharmacol Neurosci for their great endeavor. And I also express my deepest appreciation to all of the editorial board members and authors who have contributed with excellent work. Furthermore, I thank the AsCNP members who supported the appointment of Clin Psychopharmacol Neurosci as an Associate Journal of the AsCNP.
Now,Clin Psychopharmacol Neurosci reaches a turning point. It's time to increase the citation index and impact factor by inviting more high-quality articles. To achieve this goal, we really need your further support and contributions.
I hope that all of our global colleagues will enjoy our journal and have many opportunities to share their ideas and researches in Clin Psychopharmacol Neurosci.
Support us with your citations!
Duk-In Jon, MD, PhD